Chuletas Adobado con salsa fresca de cebolla y cilantro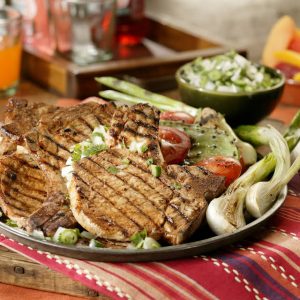 Description
Mexican adobado is a spicy marinade used on meats and poultry before grilling. These thin pork chops cook in a minute over a hot grill, so tend them carefully. The fresh salsa of onion, cilantro and lime provides a crunchy and refreshing counterpoint to the spicy pork. Serve with rice, beans and fresh fruit salad.
Ingredients
8

 

bone-in ribeye (rib) pork chops

(1/4-inch thick)
1

 

jalapeno chile

(stemmed, seeded and chopped)
1

1

/

2

 

cups

white onion

(minced)
1

 

tablespoon

serrano chile

(minced)
1

/

2

 

cup

fresh cilantro

(coarsely chopped)
Directions
To make marinade, remove stems from all dried chiles (Anaheim and arbol), shake out and discard seeds. Place chiles in small saucepan with water just to cover. Bring to a boil, remove from heat and let stand for 20 minutes to soften. Drain. In small skillet toast the cumin seed over medium heat until lightly browned and fragrant, about 2-3 minutes. Place chiles 9anaheim and arbol), cumin seed, garlic, jalapeno, vinegar, oil and salt in blender container. Puree until thick and smooth.

Place pork chops in shallow pan and pour marinade over. Let marinate in refrigerator for one hour or overnight.

Prepare a hot fire in grill or heat broiler.

Before grilling chops, make the relish. In a small bowl stir together the onion, serrano, cilantro, 1/4 tsp salt, lime juice and 1 Tbs olive oil. Set aside until ready to serve.

Grill chops directly over heat, or broil, until they are nicely browned on both sides, 2 minutes per side. To serve, arrange chops on serving platter, garnish with some of the relish and serve remaining relish on the side.