Porky Burger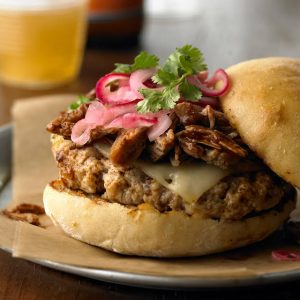 Description
Recipe courtesy of Michael Symon on behalf of The National Pork Board
Ingredients
1

1

/

2

 

pounds

bone-in pork shoulder blade roast

(yield 3 cups pulled pork from recipe)
2

 

pounds

ground pork

(96% lean)
1

/

2

 

teaspoon

black pepper
6

 

burger buns

(potato, OR brioche burger buns)
6.5

 

ounces

Gruyere cheese

(slices)
1

/

2

 

cup

red onion

(pickled, OR very thinly sliced red onion, separated into rings)
1

1

/

2

 

pounds

bone-in pork shoulder blade roast
1

 

tablespoon

smoked paprika
1

 

tablespoon

coriander seeds

(toasted*)
1

1

/

2

 

teaspoons

cumin seed

(toasted*)
4

 

teaspoons

olive oil

(PLUS 2 tablespoons)
1

/

2

 

cup

apple cider vinegar
2

 

tablespoons

chipotles in adobo

(finely chopped)
1

 

onions

(small, sliced and separated into rings)
4

 

cloves

garlic

(chopped)
Directions
Pulled Pork: To toast spices (coriander and cumin), place spices in a dry skillet. Heat and stir over medium heat until fragrant. Immediately remove spices from skillet. Combine ancho chile powder, paprika, coriander seeds, cumin and salt in small bowl; set aside.

Cut 2 large pieces of plastic wrap. Place plastic wrap pieces on work surface in a cross position. Place roast on top in the center. Rub 2 teaspoons of oil on top of roast; spoon and pat half of the spice mixture on top. Carefully turn over roast on plastic wrap. Rub 2 teaspoons of oil on top; spoon and pat on the remaining spice mixture. Tightly wrap pork in the plastic wrap. Refrigerate for 8 to 12 hours.

Preheat oven to 300° F. Add the remaining 2 tablespoons of oil to a 6-quart heavy Dutch oven. Heat over medium-high heat.