What is black cumin and how is it?
Cumin is a fragrant and anti-flatulence seed that is used as a spice. The leaves of this plant are twenty to thirty centimeters and its height is about fifty centimeters. The fruit of this plant is crescent-shaped and prominent about two millimeters. There are two types of cumin in the world called cumin and black cumin. In this article, we will introduce black cumin.
Black cumin is one of the native plants of Asia Which is used in a variety of foods because of its unique flavor. When this plant dries It is similar to cumin seeds The spice of these seeds is excellent And that is why it is used in Indian, German and Russian cuisines. The nutritional value of black cumin has made it an essential ingredient for consumption. Contains minerals such as iron, calcium, zinc and magnesium. The seeds also contain natural vitamins.These seeds can be used in tea, as a spice and also as a part to heal wounds.
Properties and benefits of cumin
The nature of black mountain cumin is very hot and dry. Black cumin has many properties such as: soothing the stomach, relieving and treating cough, increasing milk, regulating, nourishing, anti-worm, digestive, anti-seizure, astringent, diaphoretic, stomach tonic, sperm-strengthening.
Cumin is very useful in cases of swallowing air, bloating, indigestion, facilitating digestion, heartburn in children, parasites of the stomach and intestines, flatulence of the kidneys and bladder, shortness of breath and hiccups.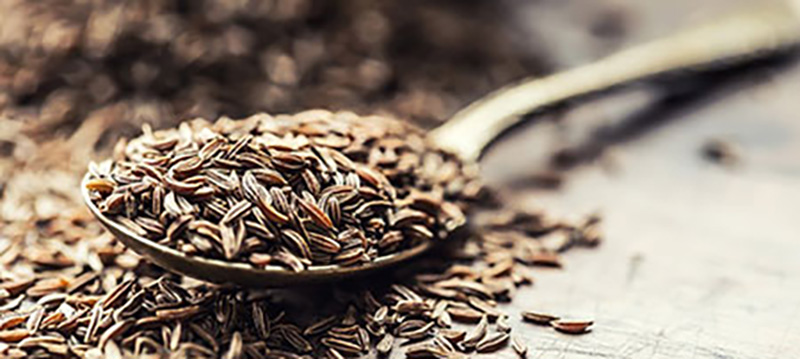 Cumin is a traditional medicine for indigestion, especially bloating. Cumin sweat or its oil is useful in relieving indigestion and heartburn in children. Cumin has anti-seizure properties and is useful for relieving menstrual cramps.
It is a tonic for the body and fattening. It warms and strengthens the stomach and repels the worm. And has a significant effect on preventing, causing extra bloating in the intestines and treating diarrhea.
The infusion of a tablespoon of black cumin jam in half a liter of boiling water is used for laziness, gastrointestinal, appetite, bloating or intestinal pain. Consumption of black cumin or chewing it is very effective in relieving and reducing pain caused by menstruation, intestinal pains and anorexia.