Roast Pork Shoulder Caribbean-Style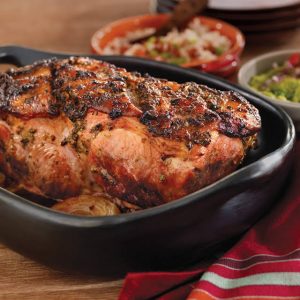 Ingredients
5

 

pounds

bone-in pork shoulder
1

 

onion

(medium, thickly sliced)
1

 

teaspoon

black peppercorns
1

 

tablespoon

lard

(OR oil)
Directions
Using a sharp knife make several shallow cuts (about 1/2-inch deep) in the pork, place in a glass or ceramic roasting pan. Spread the onion slices on the bottom of the pan.

Place the rest of the ingredients in a food processor or blender and process to make a paste. Rub the pork with the mixture on all sides, making sure it goes into the cuts. Place pork on top of the onions.

Cover with plastic wrap and refrigerate for about 4 hours, turning once, leaving the fat side up for cooking.

Preheat the oven to 450 degrees F. Place the pork in the middle rack of the oven. After 30 minutes turn down the temperature to 325 degrees and cook an additional 2 hours, basting every 30 minutes or so with its own juices. Plan for a total of 25-30 minutes per pound, or until the internal temperature as measured with a meat thermometer is 160 degrees F.

Remove the pork from the oven and allow to rest 15 minutes before carving, discard onions.